The digital platform to buy, sell, and invest in real estate.
Reducing the cost of homeownership for buyers and investors through fractional ownership cutting real estate into bite-sized chunks everyone can afford.
Solution to Affordable Homeownership
Buy a house with 5% minimum equity with full rights of homeownership
Eliminate mortgage loans and risks of interest rate changes
Connect buyers with investors to co-own property and reduce costs
Invest in owner-occupied homes
Zeehaus enables real estate investors to invest in owner-occupied homes starting at $100 and receive rental incomes with appreciation potential.
Why is this better?
Each equity sharing property has a keyholder (homebuyer) with a vested interest who will take better care of the properties
You don't get that if you buy and invest in rental property homes, vacation properties, or real estate funds
Our Mission
We believe real estate investing and homeownership should be for everyone!
Zeehaus lowers both the cost and risk of homeownership and investment to allow more people to benefit and enter the marketplace.
The way things are
Wealth is for the wealthy, homeownership is for the established.
Investing in real estate requires a lot of capital and risk.
Homeownership is something you have to put off; savings are forever falling behind the required down payment, making access unattainable.
The young and those with less capital cannot participate in the American Dream.
The way things should be
Homeownership leading to wealth building is for everyone.
Residential real estate investing is something you can get started with little capital.
Homeownership can happen now so you can build your future today.
The young and those with less capital are the foundation of the American Dream.
Making a difference
Modernize real estate to allow entry into the real estate marketplace with a minimum 5% out-of-pocket payment.
We change the status quo and make wealth building and homeownership inclusive.
Inspire homeownership and equity to a large, underserved part of our community.
Allow younger people to have a voice, build their future, and change the world.
Innovation meets real estate
Equity Sharing Ownership
Buyers purchase residential property jointly with investors' funds, under an Equity Sharing Agreement.
This model enables buyers to get on the property ladder with a much lower down payment than buying a home with a mortgage and also with lower monthly payments than mortgage or rent payments.
Purchase your dream home with other investors.
Equity sharing offers an opportunity to become a homeowner with as little as 5% equity.
Purchasing a home without a significant down payment.
Lower housing payments with an opportunity for mortgage financing in three (3) years.
A simple and quick buying process.
Ideal for buyers who:
Plan to stay in the property for 5 years or more.
Intend to

buy-out

the full property in the future.
Want to stay long-term without the risk of interest rate rises and significant rent increases.
What is Equity Sharing
Buy, Sell or Invest Digitally.
Equity Sharing Ownership
Zeehaus'

equity sharing

model is a new way to achieve homeownership.
Buyers and investors become co-owners of a property.
Make housing payment more affordable and real estate ownership more accessible.
The goal is buying out the property from investors.
Ownership for each co-buyer is recorded on the blockchain.
Create a transparent and diversified real estate ownership opportunity for investors with stable rent incomes.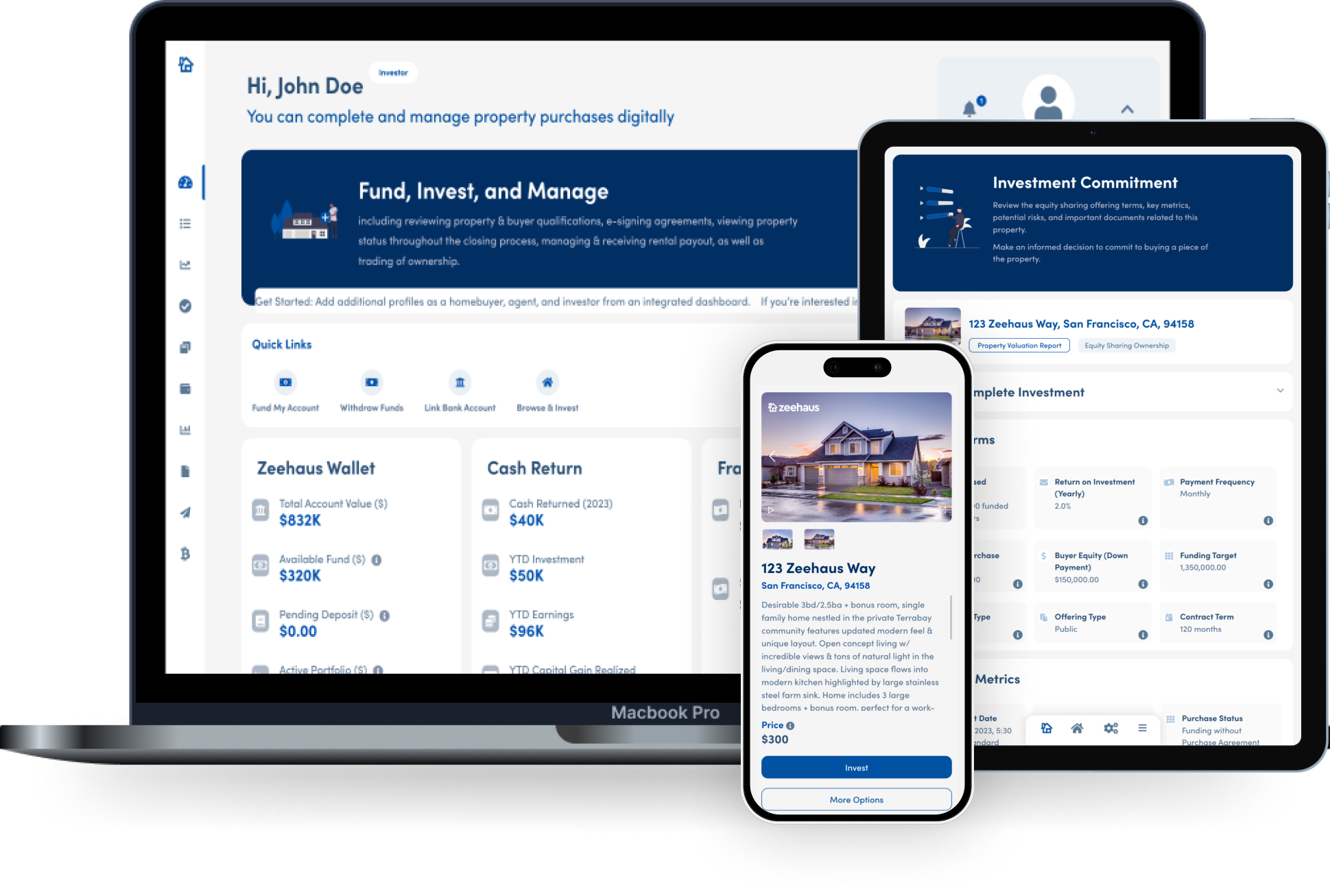 How We Can Help You
For Buyers
Share equity with friends, family, and/or investors.
Coming Soon: Buy your own property by leveraging the digital transaction system.
For Investors
Review, approve, invest, and manage your residential real estate investment in

equity sharing properties

, starting at $300.
Make real estate more accessible, liquid, and transparent.
For Sellers
Post your property in minutes. Invite your listing agent or get a referral from Zeehaus.
Experience the best platform that helps you make an

informed selling decision

.
For Agents
End-to-end agent platform with digital listing, marketing, CRM, and

lead-tracking

capabilities, for free.
Receive referrals from Zeehaus, or invite your buyers, sellers, and team member to collaborate.
Please click below for interactive payment calculator.